EDIT : Posted here as nobody would read to the very end of this
DEE haz kudos for the Armor Colour offsetts...thats all.
Well I have yet to read the Modding FAQ even if I probaly wouldnt considering it generally wouldnt benefit me.
Anyway, heres a big list of links to sites where you can get EVERYTHING you need to mod + some other glitches and stuff.
And I suggest you read this first -
http://www.se7ensins...-beginners.html
USSR Sniper's list of downloadable resources!
( Kudoz to him thistime round
)
If you need Johnson v1.14 and cant find it then here's a link to it.
http://www.modhalo.n...nson1.4_bin.zip
If you need Xplorer extreme two (updated xplorer) then here's a link to it.
http://www.ibotmodz....c...ost&id=2181
If you need a con resigner and con hasher here's a link to them also.
http://www.haloelite...oads/signer.rar
If you need the .map files for Johnson then here's a link
http://files.xboxsof...c...y&cat_id=21
If you need the blank canvas maps then here's a link
http://www.bungie.ne...r1-p=1#22459437
If you need a hex editor and cant find one then here's a link to it.
http://mh-nexus.de/d.../HxDSetupEN.zip
If you need a link to a film editor then here's two of them
Mirage
http://blog.allenthi...;download_id=23
Forge edit film tool
http://www.haloelites.org/FilmTool.rar
If you need win rar to un-zip the files then here's a link to it.
http://dw.com.com/re...b80e3c91e1f7077
If the programs exe wont start up then you need to download and install the latest version of microsoft.net frame work an here is a link to the latest version.
http://www.microsoft...;displaylang=en
If you are wondering what xport/xsata is then here's a link to what it is.
http://www.modhalo.n...opic=7431(kudoz
gla miss ya)
If you want to buy an xport via ebay then her's a link to a mess load of them =]
http://search.ebay.c...e=xbox360 xport
A Youtube Tut on how to mod.
http://www.youtube.c...M...=124&t=4675
~How to host maps on your fileshare without getting banned! ( Temporarily... )
(Kudos to Redstar 105 if it works, and its temporary btw )
-How to
Step One) Put the modded map on your fileshare
Step Two) Go to your fileshare on bungie.net
Step Three) Click on the modded map picture next to it, look at picture one.
Step Four) Copy the url in the adress bar and paste it on notepad.
Step Five) Go back to your fileshare, click the down arrow below it, and click remove from fileshare, look at picture 2.
Step Six) Post your mod on the ibotmodz H3 Modz section and don't forget to follow the post format!
~
-How to flood maps ( Kudos to DarkR0gue ) [SANDBOX NEEDED]
Step 1: In forge place 4 of the same items at the SAME HIGHT.
Step 2: Open up the map in sandbox. Find the 4 items and select on of them click edit->Edit Slots Index Entry.
Step 3: Swap the item to the only tag in the Sky* class.
Step 4: rehash and resign. and you have done.
If you want any help on how to use sandbox then please go to the support forums
NOTE: THIS DOES NOT WORK ON VALHALLA.
~How to use Sandox -( Kudos to DarkR0gue again )[SANDBOX NEEDED, Duh]
Programs Needed:
Sandbox
Usermap spliter/merger
xbox rehasher
Superaison's resigner
Ok first i will show u how to get your con file into a .map file so you can edit it in sandbox.
Step One: Open up the usermap spliter.
Step Two: Click browse next to the "Source CON" bar and find the file. then do the same about the "Split to usermap" Bar but then in the save as bar type mod.map into it. it should look like this:

Step Three: Now click "Split Usermap". you sou get the message "Split finished. Have a nice day". And it has been done.
Part 1. Getting clean maps so you can mod.
Step One: Open Your internet browser.
Step Two: Go to
http://file.xboxsoftmods.org
. (Down atm)
Step Three: Make a file called "Clean maps for Sandbox".
Step Four: Open sandbox. Click Tools->Settings. Like this:
Step Five: Click the ... button then find the folder with the maps in it. like this: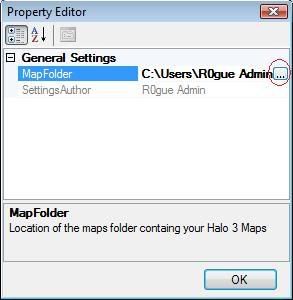 Step Six: Click OK and you can now start to follow the rest of the tutorial.
Part 2. Learning how to open usermaps also edit author, name and description.
Step One: Click File->Open usermap.
Step Two: Wait for it to load the map. Then click Edit->Edit header. You should have something like this:
Step Three: The author Box you can edit the editor the author that made the map on XBL. The Description you can edit the description that appears on XBL. The Name box you can edit the name of the varient on XBL. So i turned it into this: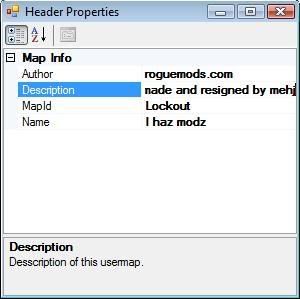 Part 3. Editing X, Y and Z cords
Step One: Click the edit button the on the item u want to change the cords on.
Step Two: Now here is the X, Y and Z cord Box: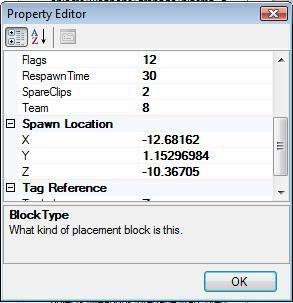 Step Three: The Z cord box changes hight. The other two change the left right and forward and backward.
Part 4. Swapping items for other items.
Step One: Find the item u want to edit click on the items name ie; objects\weapons\rifle\battle_rifle\battle_rifle. then go to Edit->Edit Slots Index Entry. You will get this:
Step Two: Then click the ... button. you will get a box like this:
Step Three: Click the drop down box next to the word class and there u can edit the class of the item. ie: proj and the next box ie; objects\weapons\grenade\plasma_grenade\plasma_grenade so that means that at the beginning of the game at that place a plasma name will appear.
Part 5. How to make more and delete items.
Step One: To delete click the delete button
Step Two: To copy ans paste click the copy button. than find another slot and click paste.
Part 6. Saving
Step One: Click File->Save Changes.
Part 7. Injecting .map edit usermap into con file.
Step One: Open The usermap spliter/merger.
Step Two: Open the Merge Usermap button at the top.
Step Three: In the Source usermap bar get the .map file u edited. IN the Source CON file get the original u extracted from. IN the New CON use the name from the original CON but in a new location. you should have this:
Step Four: Click Merge Usermap.
Part 8. Rehasing.
Step One: Open The Rehasher called xbox.
Step Two: Click Has Container File.
Step Three: Select the resigned CON file.
Step Four: Click Open.
Part 9. Resign It.
Step One: Open Superaison's resigner
Step Two: Click brows get the new CON file. Then click Browse. you should see this: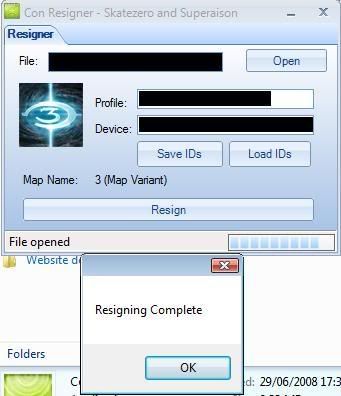 ~How to move the Troop Hog in The Pit ( Kudos to Jime for posting )
You Need:
Usermap (The Pit) with at least 1 Item on it
Xport/Xsata
Container Edit -
http://www.se7ensins... ... files.html
Sandbox v1.1 -
http://forums.halomo...pic.php?t=77789
Rehasher
Resigner
Step 1: Open Container Edit and Open your Modified Usermap, then extract the .map from the Con file. Save as anything but remember where you saved it. Don't close this program yet.
Step2: Open Sandbox v1.1 and open the .map file you extracted. It should look like the Image below. As you can see Slot # 2 has the Troop Warthog (found that out by testing) so now scroll up and down using the Big arrows to find the object you want to replace as the Troop Hog eg: (Ghost).
Step 3: Once you have found the object select copy from the copy button.
Step 4: Scroll back to the Troop Hog and hit the paste button overwriting the Warthogs Slot.
Step 5: Go to File > Save Changes. Then go back to the Container Edit tool.
Step 6: Now Inject the .map file you just edited with Sandbox v1.1 then close that program. Open your Rehasher and Resigner and Rehash and Resign the Usermap before transferring back to the Xbox 360 HDD.
Now you have a successful Troop Hog on your map but you can only have 1 (I think).
~How To Find Where All Your User Created Content ( Kudos to shottinspartan117 ) [Xplorer360 Needed]
First-open the memcard or harddrive
Second -open partition 3
Third- Double click on content
Now- find the folder that says E0000F1F5AABAC84 and double click on it
Next- click on the second folder that comes up labeld 4D5307E6
Last-click on the only folder that pops up and there you go all your user created content is there.
General Guide on how to mod UserMaps and Films ( Kudo to Venemous Fire + Exra Kudos to Derived and shade45 )
1. An Xbox 360 with Halo 3

2. A Memory unit *HDD or memory card*

3. A means to get files off your memory unit *Xsata, Xport, Datel Transfer Kit, etc, etc*

4. Xplorer360 Code: http://dwl.xbox-scen...r360.beta6.rar5. Hex Workshop Code: http://www.bpsoft.com/6. A CON file rehasher/resigner, a nearly complete list can be found at [DOWNLOAD] All Halo 3 Rehashers and CON Resigners

USERMAPS


1. Start off forge by going to a new map and clearing it out.

2. Place your items on the map, I used frag grenades.


3. Check "Save as New Map" to save your map onto your memory unit.

4. Extract the map off your memory unit using Xplorer360.


5. Grab the idents of the items you placed and what you wish to swap with using Johnson and the relative .map file for your forge map. My frag grenades were E9FB0885 and spartans are FD971BC3.
6. Swap out the idents in Hex workshop by using the replace feature.


7. Save the hex edited map.
8. Rehash the con file.

9. Resign the map using any number of resigners.


10. Put the resigned map back onto the memory unit and load up the map. You may need to load up a new map, then load the modded one again for the edits to show up properly.


FILMS
1A. Get a small
film
, I use less than 1mb as a rule of thumb.
2A. Extract this film with Xplorer360.



3A. Search for the gamertag in Hex Workshop and make sure "Unicode" is checked.



4A. Hit Ctrl+G and go forward 45 bytes from the beginning of the gamertag.

5A. Edit your armor, my edits here give Recon Helmet, Recon Shoulders, and Bungie Armor.


5B. You can also edit the Gamertag and service tag here by editing where you see them in Unicode.

6A. Save the file.

7A. Rehash the file.


8A. Resign using any resigner.



9A. Inject the film back onto your memory unit using Xplorer360.

10A. Load up the film in theater and enjoy!
Before:
After:

NOTE: Do not wear Mark VI or else the film will be corrupt... You can edit to Mark VI but not from it.
Here is how far from the beginning of the gamertag for the different things to edit, and some of the idents.


Armor
+45 = head, shoulders, shoulders, chest

Head
MarkVI = 00
CQB = 01
EVA = 02
Recon = 03
EOD = 04
Hayabusa = 05
Security = 06
Scout = 07
ODST = 08
MarkV = 09
Rogue = 0A

Shoulders
MarkVI = 00
CQB = 01
EVA = 02
Recon = 03
EOD = 04
Hayabusa = 05
Security = 06
Scout = 07

Chest
MarkVI = 00
CQB = 01
EVA = 02
Recon = 03
Hayabusa = 04
EOD = 05
Scout = 06
Katana = 07
Bungie Chest= 08

Colors
+32 = primary, secondary, detail

Values
Aqua = 10
Blue = 12
Brown = 1B
Cobalt = 13
Coral = 07
Crimson = 18
Cyan = 11
Gold = 09
Green = 0D
Khaki = 1D
Lavender = 17
Mauve = 04
Olive = 0E
Orange = 06
Orchid = 16
Pale = 0B
Peach = 08
Pink = 1A
Red = 03
Rubine = 19
Sage = 0C
Salmon = 05
Sapphire = 14
Silver = 01
Steel = 00
Tan = 1C
Teal = 0F
Violet = 15
White = 02
Yellow = 0A
Emblems
+37 = foreground, background
Emblem Colors
+40 = primary, secondary, background
~Modding Halo 3 Screenshots ( Credits to tommy2st from h3underground )
Credit for this TUT goes 2 Snayke for writing it and Dark Slipstream editing for n00bs who couldnt understand
What you will need:
-Microsoft Paint
Ok, firstly, find your picture.
- Resize the blank paint picture to 1536x1152.
1) Create your screenshot in that size.
2) Save the image as a JPG.
Reason -Many other programs such as photoshop will use a compressed algorithm to save the image. Paint will just save it as the required raw jpg format, which is what is needed.
3) Open your screenshot you extracted using XPlorer 360 / XPort in hex workshop.
4) Go to the offset 0xE148. (This is the start of your JPG data)
5) Now navigate to the bottom, and find "_eof". (This marks the end of the JPG data, [The line/point right before "_eof" is the end])
6) Open up your picture (You created in Paint) in hex workshop.
7) Copy the data from offset 0xE148 to the beginning of "_eof", and paste it in the original screenshot.
8) Go to your picture again, and look at the bottom of HxD where it shows how much you have selected. (Such as one of my pictures showed 0x2B868 which is roughly 286kb) (00 02 B8 68 from my picture) -- Copy those 4 bytes.
9) Go to offset 0xE144 of your screenshot.
This is the length of the picture data.
11) Paste your copied bytes (picture length) and Overwrite the data, not insert new data.
12) Go to offset 0xE10C, and Overwrite using the same bytes again. (00 02 B8 68 from my example)
13) Now add 0x10 to the offset (Which would turn 00 02 B8 68 INTO 00 02 B8 78) and write this over the 4 bytes at offset 0xE13D.
14) Finally, navigate to the very end of the file, and fix the NULL padding. Each 4kb block is exactly 0x1000 bytes in size, so null padding is simply * the file into a size that is a multiple of 0x1000.
(So if I had a file that was 0x1B628 bytes long before NULL padding, I could either fix it by 2 different ways depending on how much NULL padding there is already. If there is enough NULL padding already to round it down to 0x1B000, then that would be preferred. However if there is not, you must add NULL bytes (0x00) until it rounds up to 0x1C000.)
** Once this is done, simply rehash and resign. **
Please Note: The file must still be within the same 4kb area as the original picture. So if my original screenshot was 116kb in size, and I made one that is 120kb in size, it would not work. After fixing the null padding, the screenshot must be the same size as before.
~How to change the author of a modded map ( Kudos to tommst2st again )
Step 1

Open the map your about to mod in HxD. Click Search, Find. Change Datatype Text-string and the Search Direction to all. Now type _blf in where it says Search for. Now on the Text side look for your Gamertag. Now just type over your gamertag. Go down a little bit find your Gamertag again repeat the same step as above. Now Save not Save As.
Step 2
Go rehash and resign.
~How to mod Forge Varients
http://www.youtube.c...?showtopic=8089
~~~~~~~~~~~~~~~~~~~~~~~~
None of these were made by me and all links were used either by general knowledge, off of resources from Se7enSins or from Toybox, a user created app made to help the community.
~~~~~~~~~~~~~~~~~~~~~~~~
I would edit but considering none of you would read it, I shall post here.
Loads of people took alot of time researching and learning how to do this. I do not take any credit for their findings whatsoever. All I have done is compile them in one post so you guys dont have to sign up to unneeded sites.
Wether this post gets positive or negative reviews by you guys ( hopefully not... ) I at least hope it helped somebody
Edited by Godlike Assassin, 15 August 2008 - 07:40 PM.